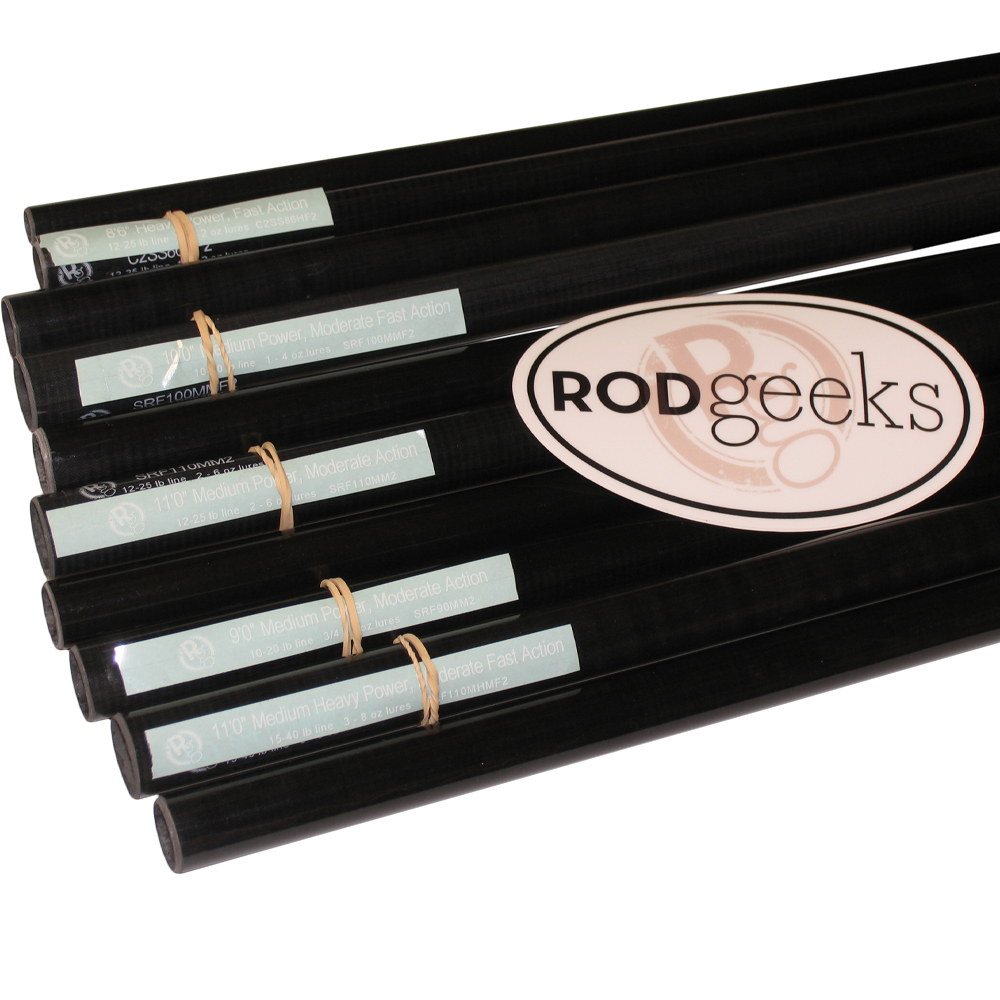 RODgeeks X-Comp Blanks
These blanks feature composite construction taken to the EXTREME.
Blanks require a shipping deposit of $25, see details at checkout.
Description
Extreme Power is derived by using carbon fibre in the handles for serious fish fighting backbone.
Extreme Sensitivity is achieved by using carbon fibre and S-glass in the tips and rolling it into Moderate-Fast actions that load up smoothly and communicate every nuance to the fisherman.
Extreme Durability is created by a circumferential carbon fiber wrap in the midsection of the blanks that creates insane hoop strength yet weighs next to nothing.
Extreme Versatility is realised by offering a wide range of powers in blanks that can be butt and tip cut to precisely dial in the desired action to make rods that perform in a wide range of saltwater and freshwater applications.
The X-Comp Series was designed with a focus on inshore fishing. There are 12 different models that cover a wide range of weight ratings. All blanks in this series are either 7'3" or 8' in length and feature Moderate-Fast actions. The 8' blanks are a little more moderate than the 7'3" versions. The power of these blanks is rated on a number scale ranging from 0 to 6, each corresponding to a different line weight range, with 0 being the lightest and 6 being the heaviest. They have serious power, excellent sensitivity, and can be used in a wide range of applications.
These blanks excel in freshwater applications, too. Consider the X-Comp blanks for freshwater rod builds when a fast action is not required but excellent strength in the handle is essential. The lighter models are ideal for casting and retrieving moving baits, while the heavier models will make great big catfish and musky rods. The extreme durability of these blanks makes them an excellent choice for kayak fishing. Start your next build on an X-Comp blank and get EXTREME.
| | | | | | | | | | |
| --- | --- | --- | --- | --- | --- | --- | --- | --- | --- |
| Model | Length | Power | Action | Mono Line Wt (lbs) | Sinker Wt (ozs) | Lure Wt (ozs) | Tip Dia (mm) | Butt Dia (mm) | Wt (ozs) |
| XC730 | 7'3" | 0 | MF | 6-15 | 3/4-2 | 3/8-1 | 2.2 | 14.3 | 3.0 |
| XC731 | 7'3" | 1 | MF | 10-20 | 1-5 | 1/2-1 | 2.6 | 14.9 | 3.8 |
| XC732 | 7'3" | 2 | MF | 15-25 | 2-8 | 3/4-2 | 3.0 | 15.7 | 4.6 |
| XC733 | 7'3" | 3 | MF | 17-30 | 3-10 | 1-3 | 3.2 | 15.9 | 4.9 |
| XC734 | 7'3" | 4 | MF | 20-40 | 4-12 | 1-3 | 3.6 | 16.1 | 5.2 |
| XC735 | 7'3" | 5 | MF | 20-50 | 5-16 | 2-6 | 3.8 | 16.3 | 5.8 |
| XC736 | 7'3" | 6 | MF | 40-80 | 10-32 | 4-10 | 3.9 | 17.4 | 7.0 |
| XC802 | 8' | 2 | MF | 15-25 | 2-8 | 1-21/2 | 2.8 | 15.5 | 4.0 |
| XC803 | 8' | 3 | MF | 17-30 | 3-10 | 1-3 | 3.0 | 16.3 | 4.9 |
| XC804 | 8' | 4 | MF | 20-40 | 4-12 | 2-4 | 3.2 | 16.4 | 5.2 |
| XC805 | 8' | 5 | MF | 25-60 | 8-20 | 21/2-6 | 3.6 | 16.6 | 6.5 |
| XC806 | 8' | 6 | MF | 40-80 | 10-30 | 4-10 | 3.9 | 17.4 | 7.0 |